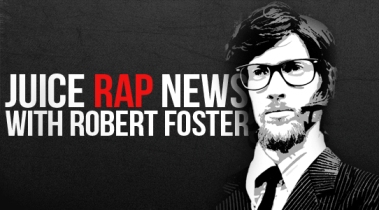 Juice Rap News offers youthful, cutting edge perspective to today's world changing events.
This assemblage of  young talent from around the globe is truly extraordinary, especially given its low budget.
Juice Rap News is but the latest example of how and why main stream media has lost much of its viewership and the opinion bending clout that came with it. It's a brave new world indeed.
Skykomish: It's time to let your corrupt mayor Tony Grider and Town Council members Henry Sladek, Gene Egan, Mike Janasz, Kevin Weiderstrom, Lorna Goebel know that Change is Coming!
Quotes from Juice Rap News Website:
"Hugo Farrant is Juice Rap News's lyricist and fills the role of the amiable Juice Rap News anchorman, Robert Foster – as well as many of the guests who appear on the show. Hailing from Branksome in the UK, Hugo is a prolific rhymer and orator, MC and spoken-word poet who regularly graces the stages and festivals of Melbourne. Having spent 8+ years rhyming and rapping, he now co-rhymes/writes Juice Rap News.
Giordano Nanni is Juice Rap News's writer & editor (occasionally, supporting actor), and is responsible for the critiques and philosophies explored by Robert Foster, and many of the other characters on the show. With a background in history, music and media, Giordano is the instigator of a number of projects spanning theatre, print and the internets – including ~TheJuiceMedia, which he established in 2008.
The collaboration of mind and body between Hugo and Giordano is embodied in the character of Robert Foster, Juice Rap News's affable anchorman, whose retro outfits and biting critiques of current affairs have earned him respect in the whisical world of news satire. Since their first broadcast in October 2009, Giordano and Hugo's collaboration has given Juice Rap News its unique flavour, bringing together their passions for rap, history, satire, journalism… and scrambled eggs."
Videos: Big Brother is WWWatching You and The Great Gun Debate.