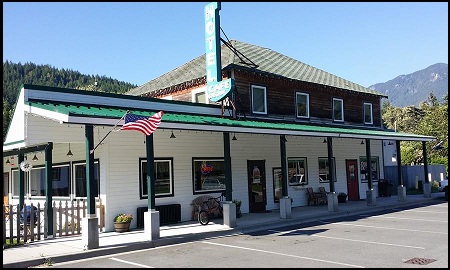 Skykomish's Cascadia Inn & its Owner Henry Sladek File Bankruptcy in an attempt to discharge onerous debts and continue operating.
Skykomish Mayor Henry Sladek, dba Cascadia Inn, filed for Chapter 13 Federal Bankruptcy Protection after being named in a lawsuit alleging that Sladek and others used the Town of Skykomish, a Municipal Corporation, to effectuate Unfair Competition, Attempted Monopoly and Conspiracy in Restraint of Trade.
Sladek's financial problems appear long simmering and deep, with debts, judgements, tax liens, warrants and claims estimated up to ten million dollars.
The implications of this bankruptcy could be far reaching not only for Mayor Sladek but also for the Town of Skykomish which must now grapple with the knowledge that Sladek, long under severe financial stress, may have used his official position for unethical and illegal purposes, participating in and advancing strategies designed to severely damage a formidable competitor, the Skykomish Hotel, and its owner and tenants
by preventing operational utilities from being restored to the Hotel following BNSF Railway's environmental cleanup scam.

by preventing the Hotel from being raised out of the flood zone.

by the Town's filing suit against the Hotel, its Managing Agent and an unrelated party for the Hotel's alleged nuisance and threat to the public's safety (which the Town's earlier actions caused).

by seeking and receiving a court order to demolish the town's largest and most prominent historic structure.

by blocking the sale of the Hotel to a private party.
Despite 'happy talk' by local, King County and 4Culture.org apparatchiks, Skykomish remains a severely polluted economic basket case in dire need of firm, competent leadership willing and capable of rooting out the systemic corruption that has gripped our scenic Cascade mountain community, preventing it from moving forward.
* * * * *
Fair Use Notice: This website post may contain copyrighted material. Such material is made available for news reporting, educational and other limited purposes only. This constitutes a 'fair use' of any such copyrighted material as provided for in title 17 U.S.C. Section 107 of the US Copyright Law.
SkykomishHotel.com and Skykomish News ('SH') have no control over and do not endorse any external Internet site that contains links to or references SH.