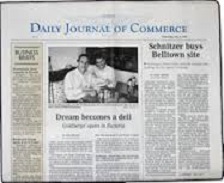 Washington State's Daily Journal of Commerce is Fake News.
Journalistic endeavor starts with a blank page. Investigation, discovery, persistence and hard work birth a narrative. The story essentially tells itself.
Make believe journalists, those whose real purpose is to serve crony capitalist masters, publish pieces like this crude fiction, which purports to be the labour of The Daily Journal of Commerce staff.
This farce is in fact nothing but a regurgitation of a lying, self-serving press release by the Washington Trust for Historic Preservation (The Trust), a non-government organization (NGO), a taxpayer dependent junkie, masquerading as a noble white knight in shining armor, working valiantly to save endangered historic structures.
The Trust's real mission appears to be a facilitator, allowing wealthy, privileged, ruling elites to acquire (steal) valuable historic properties without the unpleasant necessity of having to pay for them.
Journalistic responsibility would have at the very least dictated that SkykomishHotel.com be contacted to see if there was another side to this tale.
The Daily Journal of Commerce should not be mistaken for a serious journalistic enterprise whose mission is to inform the business community. Buyer Beware!
* * * * *
Fair Use Notice: This website post may contain copyrighted material. Such material is made available for news reporting, educational and other limited purposes only. This constitutes a 'fair use' of any such copyrighted material as provided for in title 17 U.S.C. Section 107 of the US Copyright Law.
SkykomishHotel.com ('SH') have no control over and do not endorse any external Internet site that contains links to or references SH.