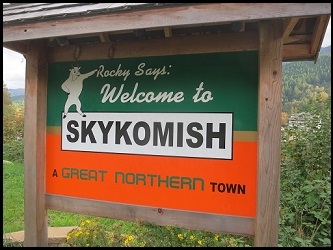 The Skykomish Historical Society (better known as the Skykomish Hysterical Society) celebrated it Grand Re-Opening at its new location in the historic Maloney General Store building at the corner of Railroad Avenue and 5th Street.
While every town has a history, not all are created equal. Skykomish, set in the beautiful splendor of a narrow Cascade mountain valley, is blessed with a vibrant, colorful past that includes many interesting characters as well as its share of bad actors.
As Sky becomes a ghost town, our history is too important to be forgotten, so it's a valuable 'undertaking' for the Historical Society, along with local residents Nancy Cleveland and Anne Sekor to record that which is being lost.
Here's a short video by local video journalist Marilyn Martin of yesterday's Grand Re-Opening event.
History continues to be written as we speak. Sky's becoming a ghost town is anything but an accident. Our town is methodically being wiped off the map so a powerful environmental monster, the BNSF Railway, will never have to cleanup soil and ground water they severely contaminated with Diesel Oil and Bunker Fuel.
While we wish the newly resurrected Skykomish Historical Society well, it's important to note that the Society hasn't been popular, well received or financially supported in the past. It's usually referred to as the 'Hysterical Society', an organisation caught under the spell of self-serving control freaks, government scofflaws and outside do-gooders.
The Hysterical Society has watched silently from the shadowy mist for decades as Sky's most important landmarks were needlessly lost.
They watched as the Great Northern Railway power generation building was lost.
They watched as the Antique Stove Company left town and the Maloney General Store was converted from an energetic tax generating business to another BNSF NGO hideout.
They watched as the Sky River Inn was demolished and then prevented from being reborn.
They watched as the historic McEvoy House was destroyed.
They watched as the town's largest and most historic structure, the Skykomish Hotel, was systematically destroyed by greasy politicians like Alan A. (Tony) Grider, Todd Brunner, Shelly Diane Farnham, Frank Martin, Kevin Weiderstrom and Henry Sladek.
The Skykomish Historical Society continues to hide its head in the sand while they point with pride to a small model of the Skykomish Hotel at their new location. In the future, maybe the Society can recreate a miniature replica of what the entire town looked like before they watched and worked to destroy it.
Coming generations will judge today's Sky residents and leaders. Will they be recognized as conscientious, hardworking visionaries who honored their past while building an exciting prosperous future, or will they be seen as foolish, short sighted, corrupt, self dealing, hard drinking and easily manipulated stooges of nefarious NGO 4Culture.org and BNSF oligarch Warren Buffett?
* * * * *
Fair Use Notice: This website post may contain copyrighted material. Such material is made available for news reporting, educational and other limited purposes only. This constitutes a 'fair use' of any such copyrighted material as provided for in title 17 U.S.C. Section 107 of the US Copyright Law.
SkykomishHotel.com and Skykomish News ('SH') have no control over and do not endorse any external Internet site that contains links to or references SH.