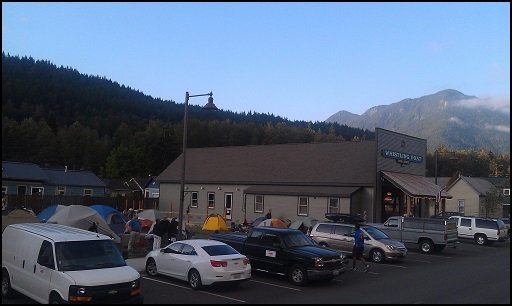 Skykomish officials like Henry Sladek, Whistling Post Tavern keeper Charlie Brown and local rabble have long been on the circuit carping about dangers the historic Skykomish Hotel posed for citizens and other innocents.
Now that the Town (which has all but destroyed itself, its economy and the Hotel) has taken physical control of and responsibility for the Hotel, it miraculously no longer poses any danger whatsoever.
Despite their constant whining and warning, Sladek, Brown, Town Council and Mayor Tony Grider recently invited 'Redspokes Bicycling Group' to pitch tents and set up camp just a few feet from the 'Dangerous' Hotel.
Faster than a snake can shed its skin, town officials, tavern keepers and do-gooders shed their morals, ethics, good judgement and concern for public safety, as an opportunity appeared to make a few quick shekels off unsuspecting travelers.
How could Sky promoters of public safety, harmony, diversity and moral rectitude be so callous, uncaring and negligent?
Amazing how much a bit of political corruption can accomplish!
* * * * *
Fair Use Notice: This website post may contain copyrighted material. Such material is made available for news reporting, educational and other limited purposes only. This constitutes a 'fair use' of any such copyrighted material as provided for in title 17 U.S.C. Section 107 of the US Copyright Law.
SkykomishHotel.com and Skykomish News ('SH') have no control over and do not endorse any external Internet site that contains links to or references SH.